Successful Home Staging: Curb Appeal
---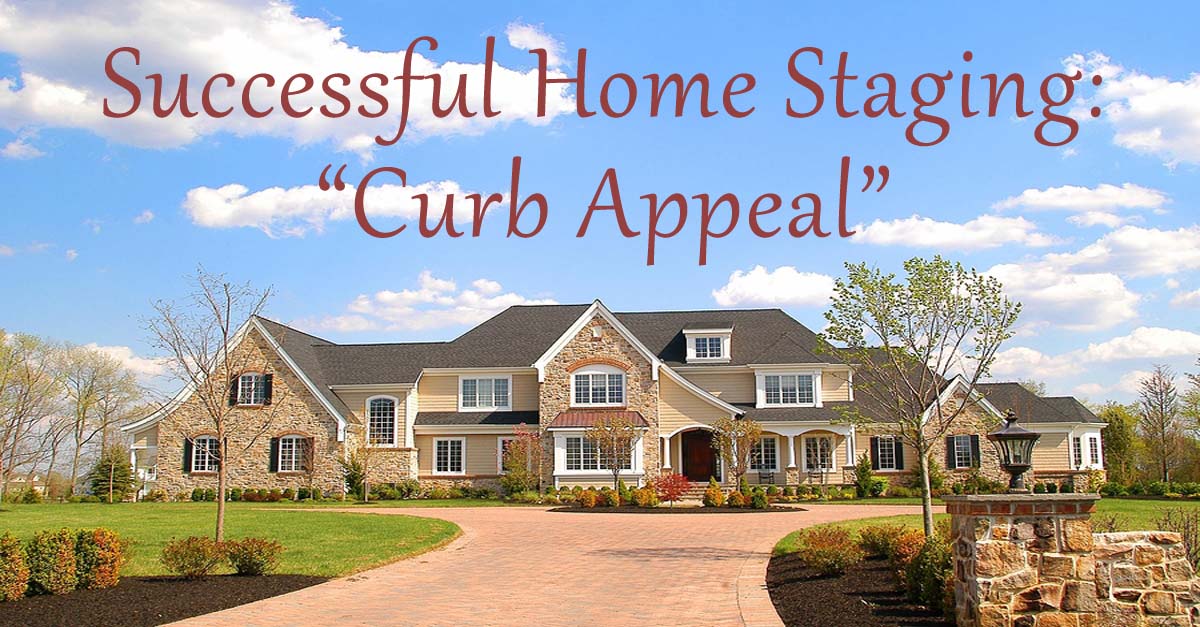 Call the Mailbox Medic!
The first thing people see when driving down the road for a showing is the mailbox. A well kept and landscaped mailbox area sets your house apart making an appealing first impression. Mailboxes are often neglected and left to fend for themselves. Wobbling posts and peeling paint are commonplace in the mailbox community.
When your mailbox isn't up to par, people assume you maintain the rest of the property to the same standards. A $5 can of spray paint is an easy fix. Simply clean the mailbox and give it a fresh coat of paint. When addressing mailbox medical needs, remember missing numbers, duct tape, bungee cords, or cable ties holding the mailbox to your post are not acceptable.
Get the stick out of your … Yard!
As Dave Ramsey says, "rich people are afraid of leaves". Make sure no matter the season, that the leaves and debris are cleared from your driveway and all pathways. During the summer, mowing the yard twice a week and applying an organic weed killer are essential. Depending on the type of grass you have, make sure any bare spots are filled appropriately.
If the season calls for it make sure you fertilize to keep your lawn happy and healthy. Always remove low hanging and dead limbs from your trees. Seriously interested homebuyers tend to walk the entire perimeter of the property, so if you have pets please remember to remove all the landmines.
Driveway or Drive-By?
Many buyers will do a preliminary drive by of your home before scheduling a showing with a realtor. If you want to put your best foot forward make sure the driveway is maintained. Power wash to remove old stains and clean any new spills immediately. Remember clay cat litter is a miracle worker when it comes to oil and fluid stains on your driveway. If your driveway is cracked and dilapidated take a trip to a big box store or call in a professional. Cracks should be filled and repaired on concrete or asphalt surfaces. Paver driveways need to be sprayed regularly for weed control. Rural homes with dirt or gravels drives should have potholes filled and graded.
UGS – Ugly Gutter Syndrome?
If your home is suffering from Ugly Gutter Syndrome don't fret! Gutters can be easily cleaned or repainted on a Sunday afternoon. Make sure to also clear your gutters and downspouts from leaves and twigs.
Windows, Doors, and More Chores!
All doors, windows, and hardware should be clean and in functional condition. If you do not usually use your front door, make sure it is inviting to potential buyers and clear of dirt, newspapers and spider webs. To beautify your doorway, your can install a dazzling doorbell easily and inexpensively. Interior window coverings that are visible from the road should be identical to give a uniform appearance. Loose or bowing siding should be repaired or replaced. Siding is notorious for mildew and should be pressure washed.

Porches and Decks
Cushions on outdoor furniture must be neat and clean. Potted plants are a great way to liven up and add color to your front porch. An adorable and welcoming idea is to paint the house numbers on the pot and place it next to the front door. Help buyers keep the house clean by adding a welcome mat that accents your home's style.
Lights out
Replace any burnt out light bulbs. Repaint lights and light posts to make crisp and new. Remove all bugs from inside light. Make sure lid on it securely. Once again a little maintenance makes a big first impression.
Hide and Seek
Try to disguise any mechanical systems and garbage cans with a short fence or shrubs and unless you have a showpiece hose reel put it up. You don't want any objects detracting from the overall appearance of home. Garbage cans in front of a mansion, still make it look trashy.
We hope this will help everyone make exceptional first impressions for potential buyers.
If you are thinking of buying or selling property in the Dayton area, please feel free to contact us, we love working with people to obtain the home of their dreams and reach their financial goals.
By

We offer home staging services to all of our clients to maximize selling price and help find their dream property.
Call (937) 703-5478 (LIST) or email chelleandmelle@gmail.com
"Evolution of Extraordinary"