Successful Home Staging: ChildrenÂ's Rooms
---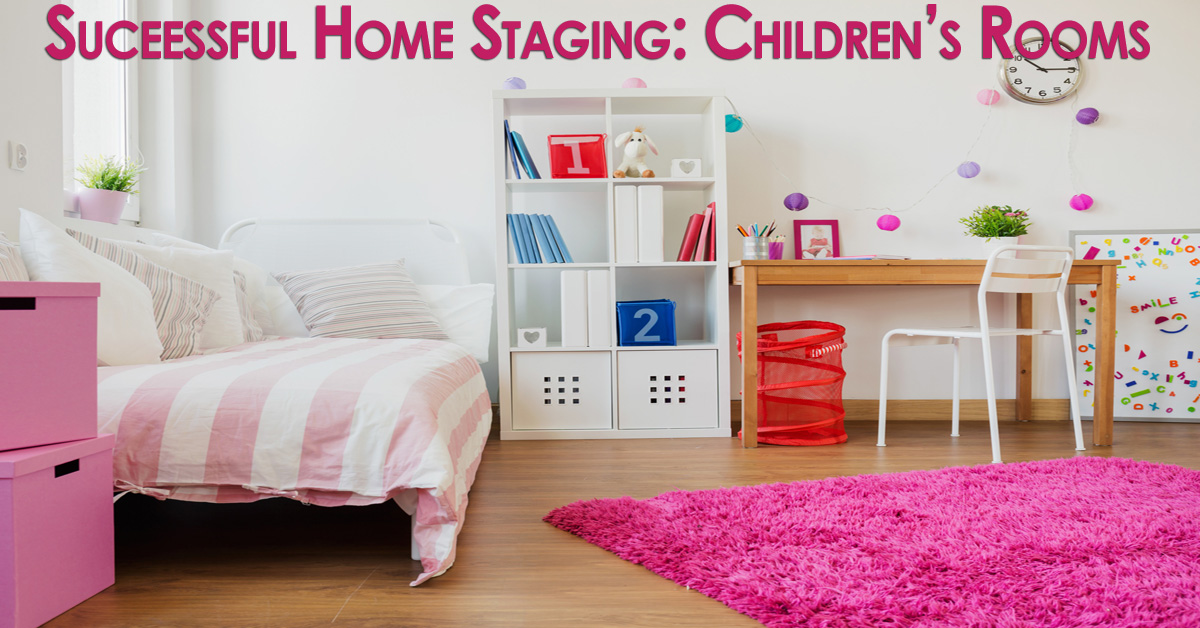 Let the children play!
Children's rooms are amongst the most challenging and fun to stage. It has its obvious challenges when showings occur, however, with a few easy tricks for Mom and Dad, we will have the room staged and ready for easy cleanup while the home is on the market.
Color.
People often ask if they should repaint the bedroom walls and there is no easy or quick answer for this. There are many factors to consider when answering this question. It depends on the actual color already on the walls, the size of the room and sometimes even the overall size of the house comes into play, no pun intended.
If the bedroom is smaller, say under 10 x 12 with a darker color on the walls, I almost always ask the homeowner to tone the color down. Even with large windows allowing substantial light in the room, dark paint will make it seem even smaller to buyers.
An exception to the rule comes into play when dealing with a 4 or 5 bedroom home. If most of the bedrooms are painted a neutral color and only 1 of the bedrooms is painted a dark color or has a wild flair, I will often let it slide.
Décor
Whether it is an infant, toddler or teen occupying the bedroom, a nice clean palette is always favorable. Of course for a baby's room, having baby-ish art on the walls is completely appropriate.
In a teenagers room we often see posters covering every square inch of the walls and even the ceilings. This is one change I would recommend. Potential buyers could see this as a huge project when thinking about spending an entire afternoon spackling a million holes in the walls and then painting. Moving is stressful enough, don't overwhelm them with another "move-in project".
Toys
Toys are a necessity in every child's room. But when it comes time to show the house, sometimes there isn't enough space in the closet or toy chest to hide all those Barbie dolls and GI Joes.
Before listing you home, if your child is old enough to understand, ask them to pick out all the toys they would like to give to underprivileged children. Then ask them to place all of their favorite toys in whatever chest or plastic tote you have that can be quickly placed neatly in a closet or under a bed. Remaining toys can be packed up and ready to move to the next home. This will eliminate "parental panic" when a potential buyer wants to view your home last minute. There is nothing worse than scrambling to prepare for a showing only to realize you still have another hour of work to pick up and organize little Alisa's room before a quick vacuuming.
If your child is old enough, make a game of it and time them to see how quickly they can pick up their entire room and make their bed? You may just find you have a little partner ready to help!
Bedding
I've mentioned bedding in other posts and even though it is not staying in the house, it is crucial for staging any room that there is cohesive décor in place. Buyers can and will be turned off by the strangest things. An orange comforter in a blue painted room may be ok for a Florida Gators fan, however, most people I have found when a room is just over the top, they don't even see the windows, much less walk in the room far enough to open the closet door! They comment on the horrible color combination and quickly leave the room.
Once a buyer has a bad taste in their mouth about the silliest thing, it is almost impossible for us Realtors to rally. Even when pointing out how great home for their family, fitting all of their needs with a fair price and it's even in their favorite neighborhood, they still only seem to remember the blue and orange bedroom. Do yourself a huge favor and tone down the colors in children's rooms. Remember to decorate lightly, take down posters, and make the beds seem like they belong in a catalog. Once you do this you will be on your way to your next home and you can paint bedrooms any color you choose from the rainbow.
If you are thinking of buying or selling in the Dayton area, please feel free to contact us, we love working with people to obtain the home of their dreams and reach their financial goals.
By

We offer home staging services to all of our clients to maximize selling price and help find their dream property.
Call (937) 703-5478 (LIST) or email chelleandmelle@gmail.com
"Evolution of Extraordinary"