Preapproved not Prequalified
---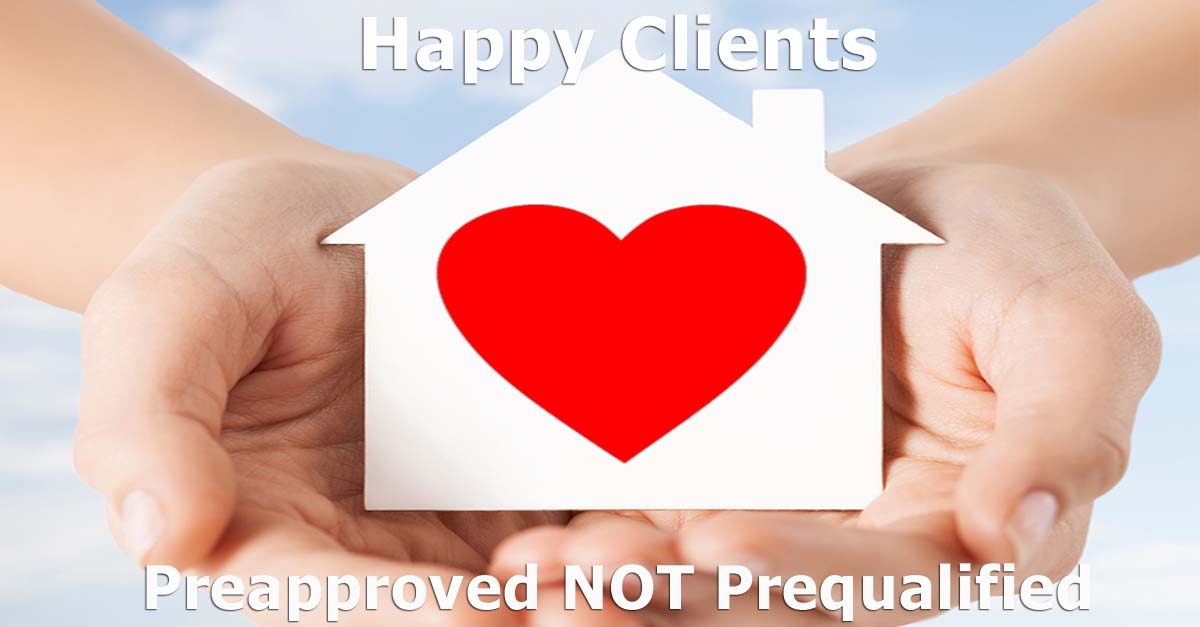 Many clients and even real estate professionals alike, do not realize the substantial difference between preapproved and prequalified. There are several reasons why you want your clients to be preapproved prior to showing them their first home or before you agree to list their current home for sale.
A prequalification is a very simple process in which a loan officer simply collects basic financial information ie. wages, debt and assets. It only takes the client and loan officer a few minutes. Some clients may even do this online. The prequalification process does not pull their credit, but simply gives an approximate mortgage amount that they can afford based on very superficial information.
A preapproval on the other hand, pulls credit to determine actual debt to income ratio, gives a credit score in order that the loan officer can place them in the best product with lowest rate. With a preapproval, the client has already provided the lender with income tax returns, proof of income, employment has been verified, assets have been verified and they are ready to purchase knowing the exact amount of their required down payment and allowable mortgage.
Reason: Disappointment.
It is a terrible disappointment to all parties involved when it is time to make an offer on a property and the client needs a few months to correct their credit. This could be through no fault of their own. It could be a mistake on credit report ie. past mortgage satisfaction which was not filed properly, identity theft, or just an error reported by a creditor. These items can often take a couple months to resolve and show up on the revised credit report. By this time, the property the client's loved has most likely been sold.
Imagine this, showing a house to a young couple ready to buy, they make an offer contingent on mortgage approval (amongst other things) only to find out that brand new car they bought six months ago made their debt to income ratio 60%! Ouch! Conventional loans can't exceed 36% including your mortgage and FHA can't exceed 43%. Even people with perfect credit, may not qualify for mortgage based solely on their debt.
Showing properties to clients that are not preapproved can lead to heartbreak and frustration. Once your client has found "the one", and they are not able to purchase that home, since they were not preapproval, it will be very hard to ever find a house that holds a candle to the one that got away. When they are able to buy, they will always compare the new homes with the previous one.
Time and effort are something that real estate professionals should hold dear. Spending 2 months showing properties to unqualified buyers will not only waste your time, but leave potential clients having negative feelings about your abilities as a professional. They look to us for guidance and if we don't advise them early on in the process to get preapproved especially before making an offer, everyone time will be wasted.
Reason: Preapproving Sellers!
Sellers often believe that since they already own a home, they will be approved to buy a new one. Regardless if they are moving up or downsizing, there is a good chance their finances have changed since obtaining their previous mortgage. Lenders have become more stringent on approvals, their house may not have the equity required for the down payment, their debts could be substantially more and their credit score could be much lower. Many obstacles could stand in between them buying their new dream home. Make sure they understand all costs associated with selling and are preapproved before listing their home. Once there is a signed selling contract, they may be forced to rent; making you appear incompetent.
Reason: Safety Cannot be Overrated.
When meeting new buyers, just asking for a prequalification letter doesn't provide the same level of protection. Those who intend to inflict harm on real estate professionals will balk when you require preapproval prior to showing. Anyone can get a prequal letter in a matter of minutes online. Actually going through the entire process of being preapproved will allow anyone with harmful intent to probably move on to the next person who doesn't require any preapproval. Implementing preapproval to new buyers may keep you out of harms way.
It's always best prior to meeting with clients for the first time to have them simply email their preapproval letter from a legitimate lender. It is easy to explain the benefits of preapproval vs. prequalification to them if you simply point out it is for their own good. This will not only improve your business, but will also save your homebuyers from a broken heart.
If you are thinking of buying or selling in the Dayton area, please feel free to contact us, we love working with people to obtain the home of their dreams and reach their financial goals.
By

We offer home staging services to all of our clients to maximize selling price and help find their dream property.
Call (937) 703-5478 (LIST) or email chelleandmelle@gmail.com
"Evolution of Extraordinary"