Marketing to Millennials
---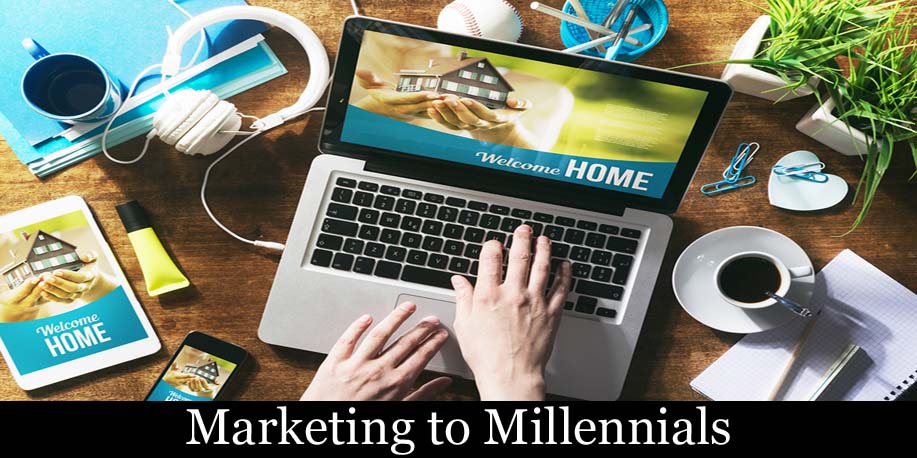 Millennials make up the largest generation in U.S. history to date. Current statistics show only 1 in 4 own their home or plan to buy in the next five years. What can we do to capture them? How can we introduce the other 75% to the idea of home ownership? After all a large portion are already starting their family, but are still choosing to rent? Why?
Growing up with the internet, cell phones and social media (AOL Instant Messenger was probably their first introduction to "being online"), this generation is often thought of as "having it all". However, we need to realize a few other things about the predicaments this generation faces before gearing our marketing to them.
We need to re-instill the belief that homeownership is a good investment for their future. Many witnessed their parents lose 20 years worth of equity, their jobs, and even their childhood homes; invoking a sense of insecurity and fear in the housing market in general.
Credit cards, student loans, high cell phone bills (avg. $100 month), and car payments are just a few obstacles facing this generation. They've been told and sold the idea that borrowing is a necessity. Only to find that the promised "The American Dream"…went awry along the way due to drastic economy changes, housing bubble, and a lack of quality jobs for college graduates. Meanwhile, those millennials ambitious enough to seek the dream of home ownership amassed $60k on average in student loan debt. Whew! That's a lot of debt before your 23rd birthday, not including credit cards and car loans.
Market to them in a way they are comfortable with, not how you are. Everything must be accessible quickly on mobiles and tablets. This is a texting generation. You won't have a lot of time to build a relationship in the beginning by talking on the phone or even in person. Developing great texting and emailing skills are crucial. Having a presence on social media is not enough! You must engage with your community offering quality advice and guidance. Reassure them that the market is recovering. Low interest rates and a high volume of affordable homes makes this the perfect time to enter the market.
Advertising also takes on a new challenge. It must be cutting edge, dynamic, eye catching, and quick. They love visual eye candy! They won't waste a lot of time. Slow loading webpages, wont get viewed, they hit the back button on to the next site. Rapid responses to emails and texts are expected.
One strategy we utilize to tempt millennials is implementing 3D home video tours. They can walk through a property without even texting or emailing anyone- complete anonymity! Home run for everyone J. Even if they aren't considering buying today, this technology will entice and intrigue. Allowing them to go to as many "open houses" as they want and visually see themselves living there gives them motivation.
Millennials will insist on home warranties. It gives them the confidence that if they buy an older home, the warranty will cover the additional expenses of the repair. They don't have the time and energy to learn to be a handyman. Please note, there are a lot of single women in this group buying property as well. Providing a home warranty could be a determining factor in moving towards homeownership.
We hope this little peak into Marketing to the Millennials helps you understand their habits and obstacles so you can better serve the next generation of homeowners. Learn to be tech savvy and you will connect!
If you are thinking of buying or selling in the Dayton area, please feel free to contact us, we love working with people to obtain the home of their dreams and reach their financial goals.
By

We offer home staging services to all of our clients to maximize selling price and help find their dream property.
Call (937) 703-5478 (LIST) or email chelleandmelle@gmail.com
"Evolution of Extraordinary"