Real Estate Photography: Blunders
---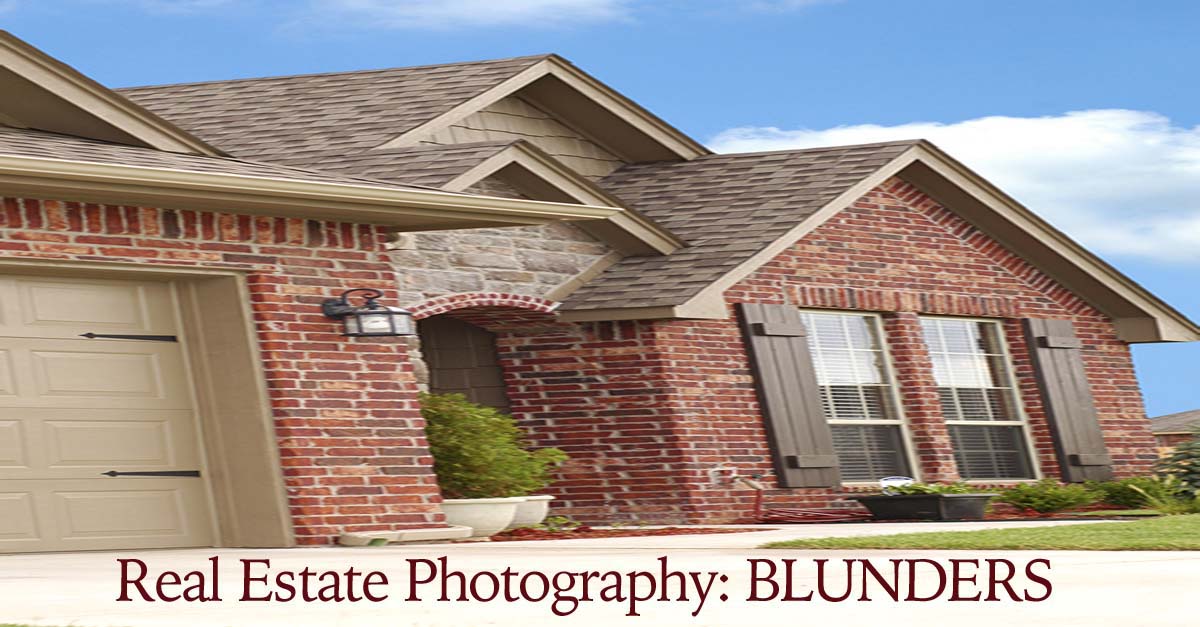 Incorporate these simple steps to start improving your photos today!
Are your photos creating a ghastly or grandeur first impression?
After seeing a myriad of photo blunders we are going to name some of the most common faux pas and their fixes.
Light, Bright and Airy, or Dark, Drab and Scary?
Taking interior pictures at night or with drapes/blinds closed is an epic fail. There is nothing like sunshine pouring through the windows filling a room to make the space come alive.
FIX: Open everything: drapes, blinds, and especially the exterior doors (that aren't in the frame of course) they allow floor to ceiling light to flow in. This small step enhances smaller rooms. *Don't forget the lights should be on for this.
Hocus, Pocus, Focus, Dopus
Focus the darn camera! Don't be a lazy daisy. If it's blurry, don't hurry and scurry - retake the photo! Everyone will be thankful. Look back after uploading your photos to make sure they are all rotated to the correct position (ie. ceilings at the top, floor at bottom).
The Power of thy Shower
Many realtors close the shower curtain to hide the beast living behind it. If this is the case, your client needs to address this issue before listing the property anyways; why not attack it now to improve the quality of your photos. Opening the shower curtains increases the focal point making the bathroom appear more spacious.
Skeletons in Your Closet?
Master closets are designed to showcase massive storage; not a calamity. Overcrowded and unorganized walk-in closets disenchant buyers, negating the abundance of storage that truly exists. Rubbermaid and space bags can go a long way in organizing seasonal clothing. Explain to sellers, closets should be tidy and trim prior to photo day.
Got Exteriors?
Have you ever seen a house that looks like its falling backwards into the abyss?
This is caused by a skewed perspective. You are either taking the picture from low ground or holding the camera bottom upwards. This can be especially challenging on two story homes or houses elevated on a hill.
Why did the realtor cross the road? To get a finer photo!
FIX: Get some distance between you and the property. Don't be afraid to cross the street and stand on the neighbors sidewalk (who knows maybe you'll make another friend).
If that doesn't help, get as high as you can safely. We always keep a small stepladder in our trunk. It's like your Amex, you shouldn't leave home without it. If all else fails it's worthwhile to hire a professional.
Have you ever seen the "funhouse" that is tilted sideways and not the one at the fair?
This seems basic but (please for the love of Mary) make sure your horizontal line is actually straight with the horizon. Most smart phones will allow you to rotate and crop so have at it, rotate and crop away! Two second edit = world of difference.
Undesirable Objects in Your Photos
Do those fantastic green garbage cans really come with the house? My personal favorite is the dirty, full and open garbage can in the middle of the gourmet kitchen. Yuck! Likewise, remove the ugly brown cardboard rolls that previously housed the paramount TP. And (for God's sake) close the toilet seat while you're at it.
FIX: Overall, items not adding value need to be removed STAT. It only takes a moment and creates a favorable vibe.
Hamsters, dogs and cats, oh my! They are cute sleeping in that big comfy chair but leave them out of your photos. You could be inadvertently turning off buyers. They or a family member could be allergic, or may think the house is odiferous and unclean. Both of which assassinate a first impression.
Pictures of corners?
Last but not least, why do agents take a picture of an ominous corner? Heck, we have no idea what the room even is, so how could a buyer? We can only assume that it is such a small bedroom you can't even get a decent picture of it. Utilize a wide angle for this one. The technology on your smartphones can really save you. Additionally, include another element of the room in the picture: a window, door, closet door, anything of interest to indicate what room we are viewing.
Your pictures tell the story of the home and helps a buyer visualize living there. So make sure it's a positive one. Remember when people are choosing a realtor, they may look at your current listings. If you have lackluster and nonsensical photos you may lose a great listing opportunity.
We hope this will help everyone take exceptional real estate photos. If you have any questions feel free to contact us, we are gladly here to help!
If you are thinking of buying or selling in the Dayton area, please feel free to contact us, we love working with people to obtain the home of their dreams and reach their financial goals.
By

We offer home staging services to all of our clients to maximize selling price and help find their dream property.
Call (937) 703-5478 (LIST) or email chelleandmelle@gmail.com
"Evolution of Extraordinary"